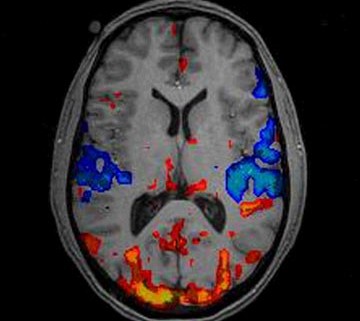 So you think you know you? Think again.
"There is a very long history within psychology of people not being very good judges of what they will actually do in a future situation."
These words are from  Matthew Lieberman, Ph.D., the co-founding father of the field of social cognitive neuroscience, the Director of UCLA's Social Cognitive Neuroscience Lab, and the author of the book "Social."
Why is his statement important?  
Because the field of neuroscience, including Matt and his colleagues' pioneering work, is helping us to better understand what is going on in our very unique and complex brains. And things are not always what they appear to be.
And  why is  that important? 
Because all of us want results: in life, at home, at work, in school. We are all trying to achieve something, and if you understand the brain and know how to work with it—instead of against it—you can improve your chances.
How do I know that? 
Because I've spent the past 10 years learning to understand the brain, how it functions, its limitations, what is common among us, and what is different between us when it comes to what is literally inside of our heads. I've delivered hundreds of programs to thousands of people and watched transformations take place when people learn how to honor the brain (which, by the way, honors the person to whom that brain belongs!).
What  am I talking about? 
Did you know that the brain is wired to be empathetic to people who share our racial group. This is linked to our very primal and basic need to survive (if he looks like us, he's probably safe). We think—and say—we are sensitive to the pain of those who are not like us but the brain tells a different story. In a study that examined the empathetic pain reactions of two ethnic groups, each group was more empathetic to the "pain" of their own racial group, despite reporting a similar reaction to the other racial group's pain. As one study [1] puts it, "Race has been demonstrated as a feature impossible to ignore in facial processing [38],[58]–[60], even when race is implicit and not relevant to the participant's task. Thus, it is possible that race may cause an automatic and bottom-up bias in empathic neural activation to pain. It may be that the neural processing for differentiation of race operates at a more basic level than broader social distinctions. "
What they mean by "bottom-up" you can think of as unconscious or automatic behavior. Another way of putting it is the brain has made a choice without your involvement. And that unconscious choice is informing your behavior. When you understand what is happening, you can begin to employ tactics to overcome this kind of automatic brain functioning. This is particularly of value when you look at what is happening in current day America.
Another fundamental idea we work with is based on Evian Gordon's 1-2-4 Integrate Model [2]. The "1" in Evan's model refers to the brain's "primary organizing principle," which is to minimize danger and maximize reward. This principle leans strongly to the favor of minimizing danger and is a powerful example of our dominant need to survive. It also links back to Matt's work in that many of the dangers we face are social, rather than physical, in nature. And these social threats place us in a state of conspicuously low cognitive functioning.
In essence, we become automatic when faced with "social threats" and end up doing and saying things that don't often work in our favor—although they do keep us alive, from the brain's perspective.
We help leaders and managers learn how to better manage social threats, maintain cognitive functioning AND improve the nature of their interactions so they achieve the things that are most important to them.
Put another way, it's not just about surviving—it's about truly living.
________
[1] http://journals.plos.org/plosone/article?id=10.1371/journal.pone.0084001
[2] The integrate model of emotion, thinking and self regulation: an application to the "paradox of aging". Journal of integrative neuroscience, 7 (3), 367-404.
https://www.response-ableconsulting.com/wp-content/uploads/2015/12/fmri.jpg
360
360
Paul McGinniss
https://www.response-ableconsulting.com/wp-content/uploads/2014/12/response-able_logo_300x146.jpg
Paul McGinniss
2015-07-22 13:31:20
2016-09-11 22:10:17
So you think you know you? Think again.